Gynecomastia
What Is Gynecomastia?
Gynecomastia is a swelling or enlargement of the breast tissue in men. Any growing breast mass in males warrants evaluation, especially if the mass appears suddenly. Typically, the mass is fatty tissue, but there can be hard tissue behind the nipple. Any suspicious tissue is removed and sent to pathology, but in most cases, gynecomastia can be treated with aggressive liposuction.
Male Breast Reduction Before & After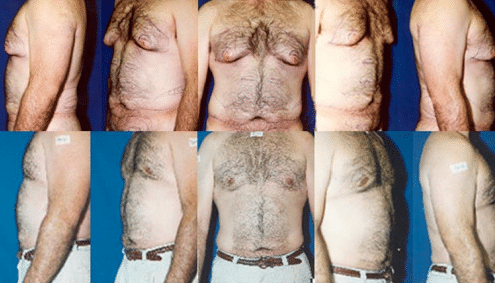 Click here to view more male breast reduction images.
Recovery After Gynecomastia Surgery?
If done properly, the fat is thoroughly suctioned out and there is nothing but skin and a thin layer of fat. After surgery, I have patients wear a compression vest to assist in healing. In those cases where men have very large breasts, I usually recommend liposuction and mass removal first, then allow the skin to contract and redrape, allowing me to avoid excessive skin removal later and minimizing the need for a large scar. Below are photos showing the results that you can expect from surgery.
Schedule A Consultation
If you are interested in learning more about gynecomastia surgery, contact the office of Dr.Woodward L. Coleman to schedule a consultation today. Our practice proudly serves San Antonio, TX and the nearby areas.